.
.
.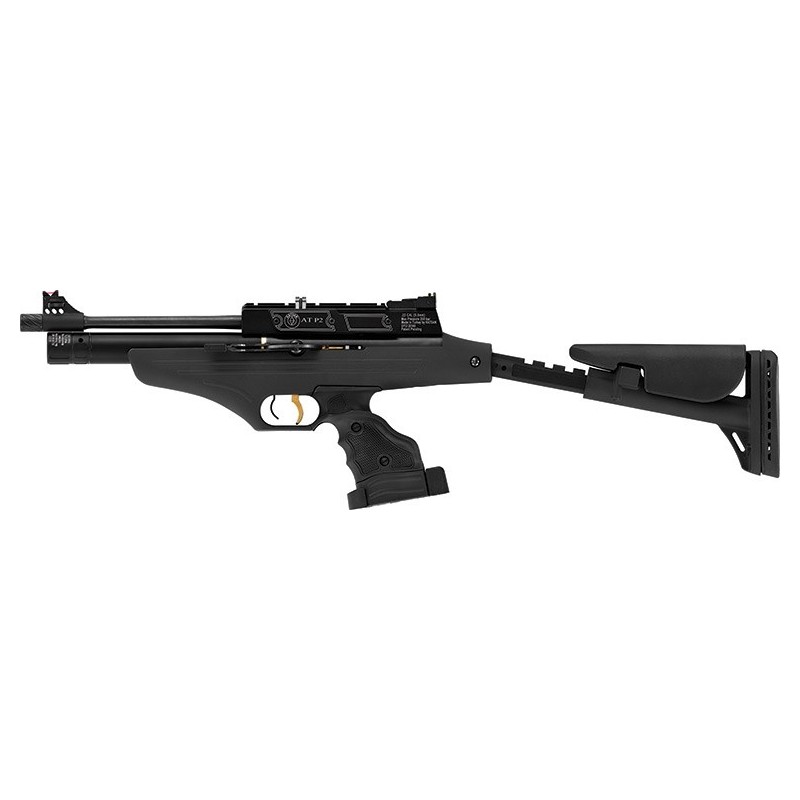 Scroll muis om in of uit te zoomen
Hatsan AT-P2
Hatsan AT-P2 5,5 or 6,35mm
Beschikbaarheid:
Niet op voorraad
• 10- shot, manual loading, side lever action, pre-charged pneumatic (PCP) air pistol + carbine air rifle.
• Precision rifled choked barrel for accuracy, threaded for ½" UNF sound moderator & fitted muzzle cap.
• Available in .22 (5.5mm) and .25 (6.35mm) caliber.
• Ergonomic design synthetic grip.
• Detachable / adjustable tactical telescopic rifle stock conversion kit included.
• Detachable 10-shot rotary magazine in .22 (5.5mm) calibers and 9-shot rotary magazine in 25 (6.35mm) caliber.
• Includes one additional magazine
• Detachable aluminum air cylinder tube (50cc). Spare cylinders are available.
• Built-in pressure gauge on the air cylinder to monitor the cylinder pressure.
• Includes quick-fill nozzle & air cylinder discharging cap
• Dovetail grooved receiver for both 11mm and 22mm scope mounts.
• Overall blued finish, black anodized receiver.
• Manual & Automatic Safety
• "Anti-double pellet feed" mechanism preventing more than one pellet loading into barrel.
• Patented anti-knock system to prevent gas wastage when rifle is knocked or bounced.
• Adjustable rear & front sight with Truglo fiber optics.
• Quattro Trigger: 2-stage fully adjustable match trigger for trigger travel and trigger load.
• Gold plated metal trigger
• Includes plastic case
Drummen Custom Guns
Gerelateerde producten 01