.
List of products by brand KG Industries
.
.
KG 5 Trigger Oil 59ml. KG5 is a blend of KG4 and other lubricants, including low molecular PTFE. Considered a penetrating oil KG5 provides excellent lubrication and penetration for close tolerance parts. KG5 will keep your trigger pull even and smooth. KG5 can also be applied to other mechanical parts, including slides.  
In stock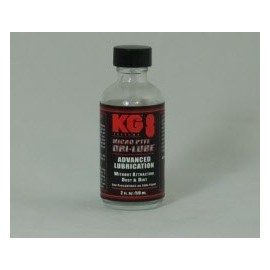 KG 8 Micro PTFE Dry Lube 59ml. Use Teflon Dry Lube where a dry, no-mess lubricant is required, i.e. triggers, slides, etc.      
In stock